Finding a perfect house for your bird and a great addition to your abode? This 47-inch birdcage with an interactive play top and a detachable rolling stand is a wise choice. The play top design can keep your pet stimulated, safe and happy, while the two feeders and two perches inside the cage will make your feathered friend feel just right at home. We care for pet parents, too. The easy-to-clean slide-out tray and extra storage shelf on the detachable stand will certainly improve your user experience
What's Included?
Wood Perch(es)
Tray
2 Food Cup(s)
Grille/Grate
Features
Interactive play top: To keep your bird stimulated and provide both you and your feathery friends with a better interaction way, we upgraded this 47-inch bird cage by adding an easy-to-use play top. It includes a perch that keeps the top doors open for the birds to stand on, and can be closed to give them a safe enclosed home
Convenient feeding system: On the facade of this rolling bird cage are two feeding cups that can be accessed outside the cage through the small feeding doors. This convenient design helps easy bird seed refilling without disturbing your easily-scared friends
Solid construction: Crafted from quality metal wires covered with non-toxic rust-resistant paint, our bird cage is a strong metal structure with an easy-to-clean plastic base, and two sanded wooden perches for the birds to play
Make cleaning a breeze: To ensure good user experience for pet parents as well, this cage has slide-out tray for collecting bird droppings and easy cleaning.Extra accessory storage: Another thoughtful design for pet parents is the extra storage shelf on the stand. It can keep bird cage cleaning tools, bird seeds and toys handy and neat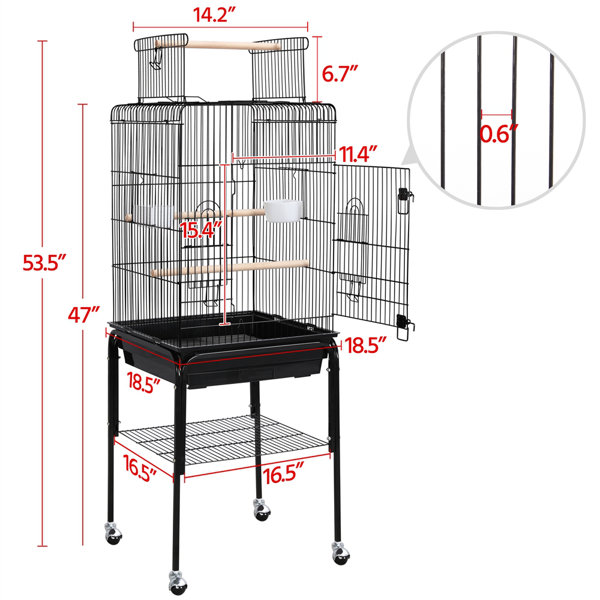 Overall
53.5" H x 18.5" W x 18.5" D
Cage
27" x 17.3" x 17.3"
Perch
18.11"
Door
15.4" H x 11.4" W
Stand
23" H
Cage Bar Thickness
0.12mm
Overall Product Weight
16.09 lb.
Play Top Height – Top to Bottom
6.7"
Cage Bar Spacing
0.6"
Features
Color
Black
Number of Doors
3
Assembly
Suggested Number of People for Assembly/Install
2