What's Included?
Manufactured wood Perch(es)
Tray
4 Food Cup(s)
Grille/Grate
Features
Pet-parent friendly & safe: You can easily lift and move the cage by holding the two handles on top. Each front door has two small entrances, which are specially designed for your little friends. The side panels feature 4 feeding doors for easy seed and water refilling. The extra storage shelf on the stand can keep bird cage cleaning tools, bird seeds, and toys handy and neat.
Worry-free assembly & free accessories: This fancy parrot cage comes with four polished wooden perches and a swing for your birds to rest and four feeding bowls for your convenience. Simple assembly is required. All necessary hardware and parts are included. We offer an illustrated instructions to help quick and easy setup.
Open top design: To keep your bird stimulated, the roof of our hanging birdcage can be opened and locked up at will. It includes a perch that keeps the top doors open for the birds to stand on and can be closed to give them a safe enclosed home. the wooden perch on the cage roof offers you a better interaction with your beloved birds.
Heavy-duty metal & easy cleaning: Crafted out of quality metal and finished with waterproof and antirust hammered paint, this 64" tall birdcage is ready for the years to come. Pull out tray and removable grate for convenient cleaning. The fence at the bottom prevents birds from walking in their excitement.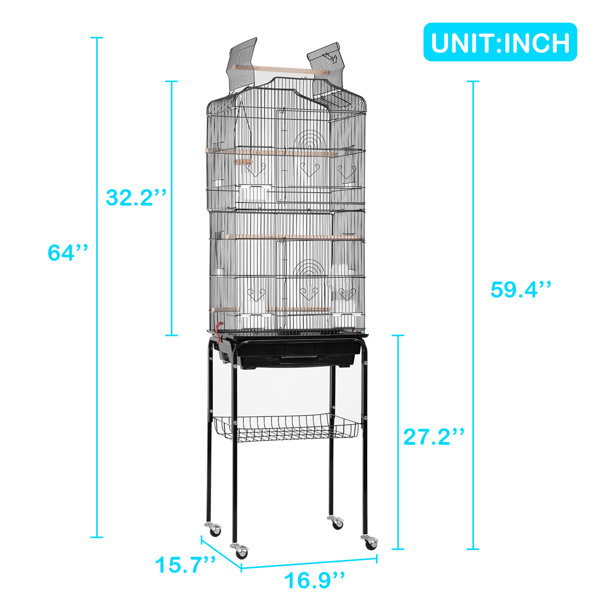 Overall
64" H x 16.9" W x 15.7" D
Cage
32.2" x 16.9" x 15.7"
Pull-out
16.9" x 15.7"
Cage Bar Thickness
3mm
Overall Product Weight
13.9 lb.
Cage Bar Spacing
0.4"
Features
Bird Cage Type
Floor
Bird Type
African Grey Parrot; Amazon Parrot; Caique Parrot; Canary; Cockatiel; Cockatoo; Dove; Eclectus Parrot; Finch; Lovebird; Macaw; Parakeet & Budgie; Parrot & Conure; Pionus Parrot; Quaker Parrot; Rosella; Toucan; Senegal Parrot; Indian Ringneck
Color
Black
Powder Coated Finish
Yes
Perch Included
Yes
Perch Material
Manufactured wood
Number of Perches Included
4
Cage Stand Included
No
Tray Included
Yes
Tray Material
Plastic
Pull Out Tray
Yes
Cage Material
Steel
Cage Top Design
Pointed
Carry Handle Included
Yes
Number of Handles
1
Wheels Included
Yes
Number of Wheels
4
Locking Wheels
Yes
Divider Included
No
Storage Shelf Included
Yes
Number of Storage Shelves
1
Number of Doors
10
Door Lock
Yes
Removable/Open Top
Yes
Food Access Doors
Yes
Food Cups Included
Yes
Number of Food Cups
4
Outdoor Use
Yes
Grille/Grate Included
Yes
Pull Out Grille/Grate
Yes
Supplier Intended and Approved Use
Non Residential Use; Residential Use
Assembly
Adult Assembly Required
Yes
Installation Required
Yes
Warranty
Commercial Warranty
Yes
Product Warranty
Yes
Warranty Length
90 Days
Full or Limited Warranty
Limited